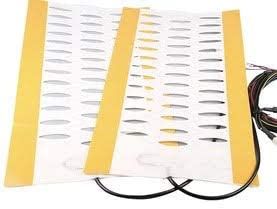 24v Seat Heater Pad/Heated Seats Kit
This seat heater kit operates on 24 Volt DC only which is two 12 volt batteries in series.

If you have dreamt of heated seats in your tractor, or heavy equipment, then this 24v Heated Seat kit is the ideal kit and best solution.

This kit is for a single seat, back and bottom. Pad size is 10.5" x 19" and is for for 24 volt DC. This 2 pad kit is designed to install between your seat upholstery (Leather, Vinyl or Cloth) and the padding underneath. Installation may require removal and re-installation of seat and seat covers, as well as basic knowledge of the vehicle's wiring. Comes with a pre-wired 21mm illuminated hi/lo/off switch for easy installation.

- 2 Pads 10.5" x 19" for 24 volt DC systems only.
- Wattage: 36 Watts per Pad, 72 Watts per seat
- Current Draw: 1 Amps on Low Heat Setting and 1.5 Amps on High Setting per Seat.
- 1 pre-wired Dual Temp High/Low (off in the center position) Bi-Color Illuminated 13/16" (21mm) Round Switch.
- Our 24V seat heaters are equipped with quick-release connectors and everything plugs into each other.