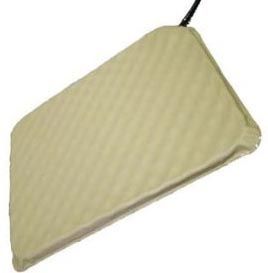 Heated Outdoor Pet Bed

This is the new soft design Pet Bed that you have heard about. It is made of softer material giving owners much more flexibility in placement and transportation, and giving your pets extra comfort. Designed for doghouses, basements, garages, barns, sheds, porches or any other outdoor shelter. This bed is perfect for the daytime outdoor dog. It uses an internal thermostat to keep the temperature at a desirable 102 when the pet lies upon the pad. The unit is constructed of a soft but durable material and has a steel wrapped cord to ensure your pet's safety. The Lectro-Soft comes in 3 sizes (S, M, L) and is extremely low wattage. Note: This is a soft bed that is NOT recommended for destructive dogs. If you have a pet that chews or is destructive in any way we suggest the Original K&H Lectro-Kennel.

Features


Soft, comfortable heated pet bed for outdoor use
Uses internal thermostat to heat up to a soothing 102 degrees
Great for the garage, barn, porch, balcony, or doghouse
Can also be used indoors
Includes fleece cover and 1-year limited warranty

3 Sizes Available


Small Size; 14" x 18"
Medium Size; 19" x 24"
Large Size; 25" x 36"