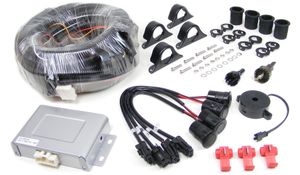 Heavy Duty Truck Park-Pro Parking Assist System

Park-ProHD commercial grade ultra sonic parking systems offer a choice of 3 different harness lengths, under the bumper mounting options and amplified analog sensors with a digital electronic control module for fleet and heavy duty applications.

Product Features


Ultrasonic sensing technology with Triangulation Detection Software.
Alerts drivers to objects as far away as 6 feet behind the vehicle.
Assists drivers in making safer parking decisions.
Helps prevent costly vehicle body repairs.
Three main warning zones.
Under bumper mounting brackets.
Dual drill tools for both plastic & metal bumpers.
Automatic bypass of the trailer tow hitch or rear mounted spare tire.
Consistent performance on targets of all densities.
Audible alarm with Hi/Lo function.
3 Year/36,000 Mile Warranty
Fits virtually all fleet applications up to 25 feet.

Included Items


Four paintable black sensors.
Waterproof sensor connectors.
Quick disconnect sensors for ease of installation.
Dual degree (6 & 12) angled bezels for adjustable sensitivity.
Four rubber sleeves included for metal bumper applications.
Amplified analog sensors with digital ECU for heavy duty applications.
Features built-in diagnostics in the event of damage or malfunction.